New Book from J. M. Farro – "The Promise-Powered Life for WOMEN"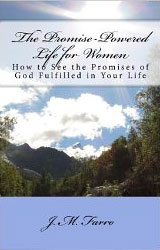 The Promise-Powered Life for Women: How to See the Promises of God Fulfilled in Your Life
Contains 50 Devotionals on the Topics of Health, Weight, Finances, Family, Relationships, Dating, Overcoming Addictions, and Much More!
To order this book from the J. M. Farro ETSY store, please click here!
Available on Amazon.com in Paperback and Digital Form for your Smartphone, Tablet, and Kindle (for more info, Click Here!)

If you are in the U.S. and would like to purchase a signed copy of this book, please click the button below. Orders are shipped out promptly by USPS First-Class Mail and will arrive in 2-5 days.
*For multiple copies, please email Joanne at jmf@jmfarro.com .  Thank you!

Pay with a Credit Card or PayPal